Friday Night Flavors (CE)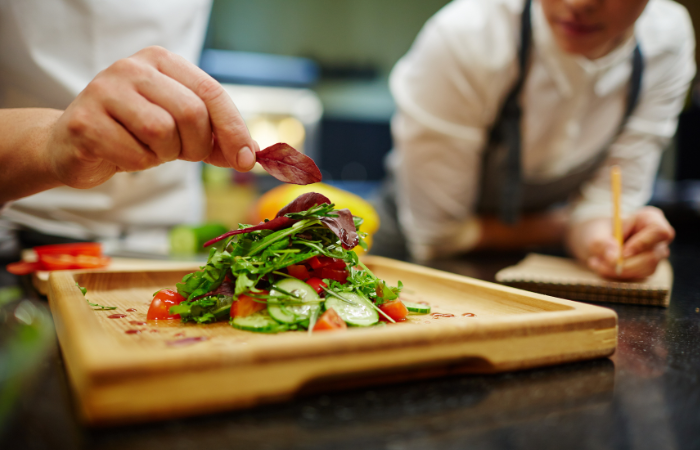 Spend an evening with like-minded food enthusiasts learning different entree preparations. Each week, we will learn about techniques used in restaurant food preparation in the relaxed environment of the college's modern teaching kitchen. Included in the demonstration, learn about the main course planning, protein, and complimentary sides, sauces, dressings, and garnish. During demonstrations, participants will observe the how-to of cooking, from prep to plating. We'll enjoy tasting the night's labor at the end of our time together.
October 20
Salmon. Pepper ginger salmon, vegetable slaw, sesame black rice cake, and a honey hoisin gochujang glaze.
October 27
Chops! Thick-cut pork loin steak topped with basil pesto, parmesan, and a buttery panko crust over portobello mushroom risotto. Short, grained rice, stock parmesan, and butter made by hand. 
November 3
Sirloin. Peppered NY sirloin grilled and served "French Onion"-caramelized onions smothered in Swiss cheese, Dauphinoise Potatoes (fancy Au Gratin, fancy scalloped potatoes).
November 17
Learn Turkey. We'll review brining, stuffing, and cooking a turkey in preparation for Thanksgiving. (Students will need to bring a cooler to transport their turkey home.)
December 1
Lots'a Pasta! Make two different pasta doughs and apply them to two other pastas. Linguini with Caciao e Peppe (parmesan and pepper) and Ravioli stuffed with basil and ricotta with lemon brown butter.  
December 8
Dips. Review three dips: smoked salmon mouse with capers and dill, edamame dip, and feta sundried tomato. 
December 15
Chocolate Wreath! Students will make a quick fudge wreath to take home! 
Instructor: Chef Don Donaldson has most recently spent 16 years as an Executive Chef with USU Dining. Originally starting his career in New York, he has worked in restaurants in Washington State and Montana cooking. He lives in Logan with his wife and two children. 
Individuals are responsible for canceling their registration should they not be able to attend. Refunds will not be issued for non-attendance. Cancellations received before the first day of class will receive a 100% refund. No refunds, in whole or in part, will be given on or after the first day of class.
Click here to learn more about our Refund Policy.
Bring your own knives (or we have some to loan). Aprons provided. Comfy shoes are recommended.
Please see our Amazon list with items we find helpful for use in the kitchen, from tools, spices for the pantry, books, and generally fun gadgets.
Registration Code
| Class Dates | Day | Time | Code | Cost |
| --- | --- | --- | --- | --- |
| Oct 20 | Fri | 6 - 9 pm | CE41 0020 01 LC | $45 |
| Oct 27 | Fri | 6 - 9 pm | CE41 0020 02 LC | $45 |
| Nov 3 | Fri | 6 - 9 pm | CE41 0020 03 LC | $45 |
| Nov 17 | Fri | 6 - 9 pm | CE41 0020 04 LC | $45 |
| Dec 1 | Fri | 6 - 9 pm | CE41 0020 05 LC | $40 |
| Dec 8 | Fri | 6 - 9 pm | CE41 0020 06 LC | $35 |
| Dec 15 | Fri | 6 - 9 pm | CE41 0020 07 LC | $35 |

The mission of the Bridgerland Technical College is to deliver competency-based, employer-guided career and technical education to both secondary and post-secondary students through traditional and technology-enhanced

methodologies. This hands-on technical education provides occupational education, skills training, and workforce development to support the educational and economic development of the Bear River Region. 

Logan Campus - Main
Telephone: 435-753-6780
Student Services
Monday: 8 am - 4:30 pm
Tuesday: 8 am - 6 pm
Wednesday: 8 am - 6 pm
Thursday: 8 am - 4:30 pm
Friday: 8 am - 4 pm
Sat/Sun: Closed
Brigham City Campus
Telephone: 435-734-0614
Student Services
Monday: 7:30 am - 4 pm
Tuesday: 7:30 am - 4 pm
Wednesday: 7:30 am - 4 pm
Thursday: 7:30 am - 4 pm
Friday: 7:30 am - 3 pm
Sat/Sun: Closed
Logan Campus - Main . 435-753-6780
1301 North 600 West, Logan, UT 84321
Brigham City Campus . 435-734-0614
325 West 1100 South Brigham City, UT 84302