Mastercam 2018 features a new ribbon interface and makes it easier to find the functions you need to complete your tasks. "Many of the more powerful tools were underused because customers did not know where to find them." The ribbon tabs group similar functions and displays them in order from simple to more complex. This basic workshop will get you started in the world of Computer-Aided Design/Computer-Aided Machining. CAD/CAM software uses CAD drawing tools to describe geometries used by the CAM portion of the program to define a toolpath that will direct the motion of a CNC machine tool to machine the exact shape that was drawn. You will learn basic design, geometry, contouring, pocketing, drilling, toolpaths, and posting.  
Registration Code
Logan (LC)
| Class Date | Day | Time | Code | Cost |
| --- | --- | --- | --- | --- |
| Winter 2019 | Mon | 6-9 pm | MACH 0104  | $152 |
A Little About Bridgerland Technical College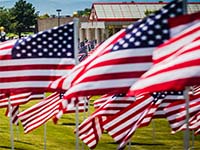 The mission of the Bridgerland Technical College is to deliver competency-based, employer-guided career and technical education to both secondary and post-secondary students through traditional and technology-enhanced methodologies.
Logan Campus - Main
Student Services
Monday: 8 am - 4:30 pm (We will be open at 7:30 am on the first day of registration)
Tuesday: 8 am - 6 pm
Wednesday: 8 am - 6 pm
Thursday: 8 am - 4:30 pm
Friday: 8 am - 4 pm
Sat/Sun: Closed
Brigham City Branch Campus 
Telephone: 435-734-0614
In-Person Hours Brigham City Branch Campus
Monday: 7:30 am - 4 pm
Tuesday: 7:30 am - 4 pm
Wednesday: 7:30 am - 4 pm
Thursday: 7:30 am - 4 pm
Friday: 7:30 am - 3 pm
Sat/Sun: Closed
Logan Campus - Main (Office)
1301 North 600 West
Logan, UT 84321
Toll Free: 866-701-1100
Local: 435-753-6780
TDD: 800-346-4128
Fax: 435-752-2016