Bridgerland Technical College and Utah State University Working Together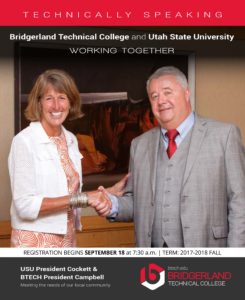 The Utah State Board of Regents approved a new degree, the Bachelor of Science in Technology Systems, for Utah State University on July 21. USU's College of Agriculture and Applied Sciences partnered with Bridgerland Technical College to develop this unique "stackable" degree designed for nontraditional students.
The degree allows students who have received an approved 900+ hour certificate from a technical college to transfer those hours and receive 30 credits at USU toward their Associate of Applied Sciences in General Technology. The students can use this degree to form the foundation for the new Bachelor of Science in Technology Systems. Students in the program can choose to emphasize in information and computer technology; product development; robotics, automation and control; or technical management.
"This new program allows students to get a bachelor's degree without going the traditional route," said Trina Nye, the program director. "They can start or stop the process at any point, or leave for a few years if they need to. It's also a great option for people who already have certificates and good jobs, but who need the four-year degree to move up the pay scale or into management positions."
Another advantage of the degree is the hands-on nature of the coursework, according to Nye. "Many students go to their first year of college and realize that sitting in a classroom is not for them," Nye said. "This degree gives them the opportunity to work with their hands and the chance to enroll in classes that are interesting to them right away."
Local companies, such as Autoliv and Orbital ATK, will hire students who are working on their technical college certificate. These companies, as well as others, may provide incentives such as tuition reimbursement as students move through the program.
"We worked with industry partners to identify what knowledge and skills they were looking for in employees," said Steve Williams, an instructor in the program. "With the idea of stacking onto a technical certificate, we were able to build a degree that meets those needs."
High school students who are interested in the degree can begin working on their certificate at a technical college while still in high school. Additionally, USU is working on creating more online and night classes so the degree can be more accessible and flexible for students.
For more information, visit btech.edu/students/pathway.