What's Happening
Our Story
Come visit Santa's North Pole Village Bridgerland Technical College When: December 6, 2019 From: 4-8pm Every stop is a new adventure.…
Read More
We hope to see you at our Semi-Annual Commencement Ceremony for the Graduating Class of 2019! To order your cap…
Read More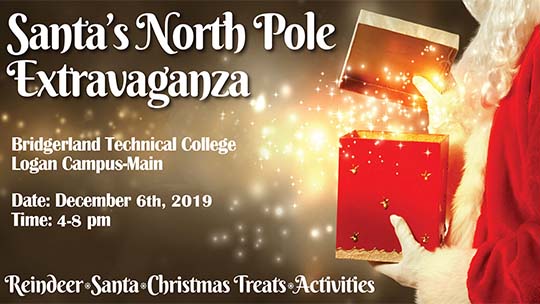 Every stop is a new adventure.
Santa will be at Bridgerland Technical College from 4-8pm.
Visit Santa's stables and see a REAL reindeer from 4-8pm.
Head on over to the North Pole Sleigh Shop, the one and only repair shop that Santa uses to keep his sleigh
in mint condition.
Then visit Santa's Sweet Shop where kids can decorate Santa's favorite cookies.
Decorate a Christmas ornament
And so much more! We have so many activities for all ages.
Stop by and join the fun!
Please send us your basic information then we'll get you started on your way.
Please check your inbox for an email from Bridgerland Technical College. If you do not receive a follow-up email, please check your junk filter and spam box
Bridgerland Technical College