Bridgerland Technical College
The mission of the Bridgerland Technical College
is to deliver competency-based, employer-guided career and technical education to both secondary and post-secondary students through traditional and technology-enhanced methodologies. This hands-on technical education provides occupational education, skills training, and workforce development to support the educational and economic development of the Bear River Region.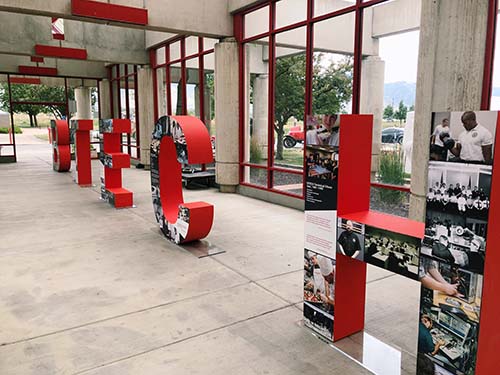 A Philosophy of Employment Through Training
Bridgerland Technical College (BTECH) undergoes an annual strategic planning process in compliance with the Council on Occupational Education (COE) accreditation standards. Input is gathered from a variety of stakeholders including students, faculty, staff, board members, and occupational advisory committee members. The results provide insight for both opportunities and challenges facing the college in the next five years.
The Leadership Council "Synergy," analyzes the recommendations and identifies objectives and strategies using the 'lens' of equity, diversity, and inclusion. These strategies assist in the college's ability to effectively carry out its mission. The following guiding principles are at the heart of the goal-setting process:
Promote & improve student success
Build relationships
Emphasize data-driven management
Update and modernize facilities, programs, and equipment
This Strategic Plan was presented to faculty, staff, and Administration; reviewed for priorities, timelines, and costs; and presented to the BTECH Board of Trustees for final adoption.
Logan Campus - Main
Telephone: 435-753-6780
Student Services
Monday: 8 am - 4:30 pm
Tuesday: 8 am - 6 pm
Wednesday: 8 am - 6 pm
Thursday: 8 am - 4:30 pm
Friday: 8 am - 4 pm
Sat/Sun: Closed
Brigham City Campus
Telephone: 435-734-0614
Student Services
Monday: 7:30 am - 4 pm
Tuesday: 7:30 am - 4 pm
Wednesday: 7:30 am - 4 pm
Thursday: 7:30 am - 4 pm
Friday: 7:30 am - 3 pm
Sat/Sun: Closed
Logan Campus - Main . 435-753-6780
1301 North 600 West, Logan, UT 84321
Brigham City Campus . 435-734-0614
325 West 1100 South Brigham City, UT 84302