Congratulations to Our Presidential Scholarship Winners
We wanted to send a huge congratulations to our newest BTECH Presidential Scholarship winners!
This year we had over 130 high school students apply for our Bridgerland Technical College scholarships! These 5 recipients were chosen as our Presidential Scholarship winners out of all those applicants!
The Presidential Scholarship honors the academic and vocational achievements of distinguished graduating high school seniors. This scholarship recognizes students who demonstrate exceptional ability and accomplishments in career and technical education. They were chosen based on an in depth application and interview. The final selections were made by President Campbell, based on the recommendations from our interview committees.
We are thrilled that these students have chosen to attend Bridgerland Technical College and we would like to introduce each of the recipients to you!
Susannah Rowles
Susannah Rowles is the daughter of RaNae Rowles and Daniel Rowles. She comes to us from Show Low, Arizona and attended Sequoia Choice High School. She has chosen to enroll in the Drafting program, however, she has an interest in robotics as well. She would like to someday work for a company that builds drones to help put out wildfires or autonomous robots for jobs that are unsafe for humans. She hopes to have a career that she loves! She enjoys learning Spanish, programming and watching Doctor Who with her friends.
Savanna Kreipl
Savanna Kreipl is the daughter of Jerry and Lara Kreipl. She attended Ridgeline High School where she was the Valedictorian of her graduating class! She is excited to attend our Animal Sciences program. Her long-term career goal is to receive her Veterinarian Technician license and work in the veterinary industry. She has a love for animals and wants to help as many as she can. Her hobbies are reading, playing the piano, learning German, and babysitting.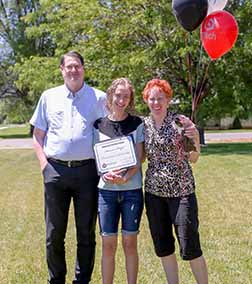 Olivia Trunnell
Olivia Trunnell is the daughter of Brig and Kristi Trunnell. Olivia attended Bear River High School and she will be enrolling in the Cosmetology/Barbering program. She has chosen this field because she wants to promote inner beauty and create a place that is relaxing from everyday turmoil. She wants to continually challenge herself and someday own her own salon! Some of her hobbies include playing volleyball, going camping, riding 4-wheelers with loved ones, horseback riding, and snowboarding.
Evelyn Anderson
Evelyn Anderson is the daughter of Mark and Ronnette Anderson. She attended Logan High School and came to BTECH to weld during high school. She recently came back to complete the Welding Technology program! After finishing her welding certification, she plans to attend USU and major in Mechanical Engineering with an emphasis in aerospace on an Air Force ROTC scholarship. Evelyn felt like welding was a great step in her education because it gave her a physical understanding of design which will lead her to her long-term career goal of working for the Air Force. She would like to have knowledge in both welding and engineering so she can improve their aircraft and possibly create a new aircraft for them! Having a deeper understanding of both the practical side and the theoretical side of designing will help her reach this goal. In her spare time, she enjoys backpacking, camping, gardening, photography, and cooking.
Janessa Gardner
Janessa Gardner is the daughter of Karen and Greg Gardner. She attended Sky View High School and was an early college student at Weber State University during high school. Janessa is currently working towards her BSN in Nursing and has recently applied to our Practical Nursing program! She passed her boards with the state of Utah in 2018 to become a CNA and is employed at Maple Springs Nursing Facility. Janessa grew up surrounded by horses and enjoys all types of horse disciplines including: mountain riding, rodeo queening, roping, rodeoing, western, and English riding. In her county, she has taken the western all-around champion title in 2016 and 2017 as well as reserve champion in the state for the Pre-Novice English division! She also currently holds the rodeo queen titles for Hyrum and Pony Express Rodeo! She plays the violin and has been in the orchestra in high school along with many other clubs and organizations as well.