Gabrielle Dye – Platinum Performer for Medical Assisting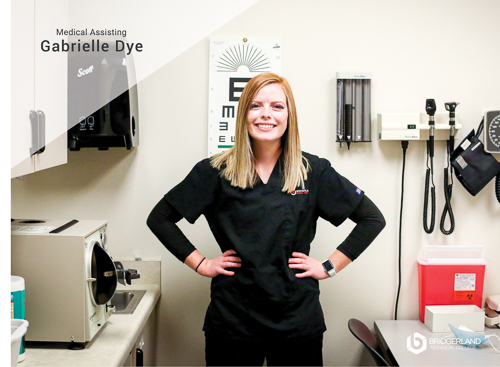 Ellie Dye is the Platinum Performer for Medical Assisting. She is from Cache Valley and loves to ski and do puzzles in her free time.
Ellie chose Bridgerland Technical College because she was interested in the medical field in high school, so she took a few classes. Ellie fell in love with her instructors and the material being taught, so she decided to continue as an adult student. Her favorite part of the program was the people she met and the education she gained.

Ellie plans to continue working as a medical assistant now that she has graduated. She is also planning on going on a medical humanitarian trip this summer. Once she gets back, she will continue her education at the University of Utah as a pre-med student. She hopes to one day become an orthopedic or trauma surgeon.

Advice Ellie gave to future students was, "Don't ever quit. Also, be excited for the success of others and find something you are passionate about." Ellie wanted to thank her instructors for always believing in her and helping her get to where she is today.