Hal Roberts Platinum Performer for Data Analytics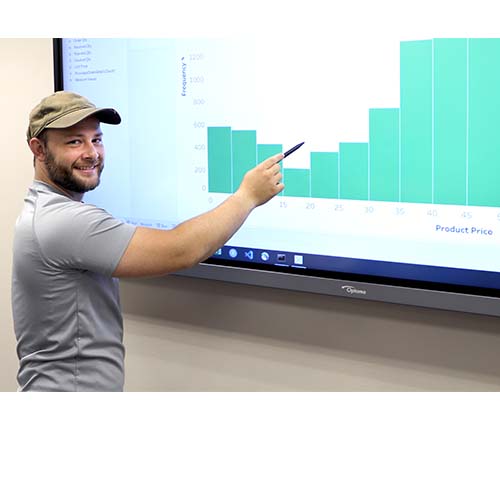 My name is Hal Roberts, and I come from Drake, Idaho. Growing up in a small town, I developed a passion for sports and the outdoors. After graduating from high school, I moved to Logan, Utah to attend Utah State University. While studying wealth management at Utah State, I decided to embark on my own entrepreneurial journey by starting an e-commerce business. This venture led me to delve into the world of data analytics, spending countless hours analyzing data on my own.
Seeking to enhance my skills, I enrolled in the Data Analytics program at Bridgerland Technical College. The course has been transformative, enabling me to perform tasks that used to take me hours in a matter of minutes. I particularly enjoyed the complete data cycle, from cleaning and analysis to presentation, which provided me with a comprehensive understanding of the process.
Investing has always fascinated me since a young age. Inspired by my father's work ethic and desire to retire early, I began planning for my own financial future. This motivation, coupled with my entrepreneurial pursuits, drove me to explore data analytics and its potential for efficiency and accurate results.
As I progress in my current business, my goal is to fully automate it using machine learning algorithms. I envision a future where I can scale and expand my ventures by acquiring similar businesses and implementing the same data-driven approach. Becoming a machine learning engineer, specializing in business automation and algorithm development, appeals to me greatly. I firmly believe that automation is the future, creating new opportunities and increasing efficiency without replacing jobs.
Some may find AI intimidating, but through research and understanding, I have come to embrace its potential. Rather than fearing job displacement, I see room for improvement and the emergence of new roles. AI requires human oversight and management, to ensure its proper functioning and alignment with business objectives.
Throughout the program, I have enjoyed various aspects, but data cleaning, the nerdy side of analytics, stands out as my favorite. Ensuring the accuracy and usability of data lays the foundation for meaningful analysis and informed decision-making. The instructors, including program director Joanna and assistant instructor Hayden, have been instrumental in my progress. Their diverse backgrounds and strengths have provided me with valuable insights and prompt support whenever needed.
In addition to my academic journey, I have a furry friend named Jaco, our hamster, who may not be the friendliest but adds some fun to our lives. If I were to recommend the Data Analytics program at Bridgerland Technical College, I would suggest that prospective students have an interest in business and performance analysis. This program equips individuals with the ability to leverage past data to tell a story and make informed decisions for the future.
One notable distinction between Bridgerland Technical College and Utah State University is the hands-on focus at Bridgerland. Through this program, I have been able to create a portfolio that showcases my skills to potential employers. The positive recommendations from my wife, along with the affordable tuition and shorter program length, influenced my decision to choose Bridgerland.
Being selected as the Platinum Performer stems from my accelerated progress in the program and the additional projects I have undertaken. Despite the small class size, we have developed a close-knit community with shared goals and aspirations in the field of data analytics. I highly recommend Joanna as an instructor for her helpfulness and dedication to her student's success.