IHC Donates $60,000 for Diversity Scholarships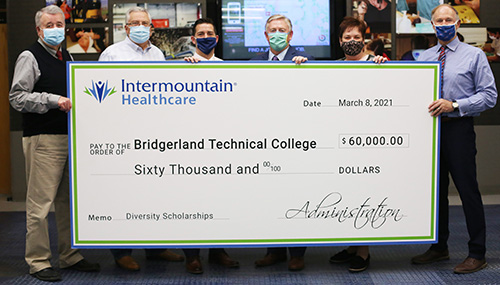 Bridgerland Technical College is celebrating a large donation from health care industry leader, Intermountain Healthcare.
Intermountain Healthcare executives Brandon McBride (CEO) and Neil Perkes (Nursing Administrator) were on the Logan Campus – Main to present BTECH with a $60,000 check to be utilized for BTECH programs related to the healthcare industry.
Diversity has always been a focus for both Intermountain Healthcare and Bridgerland Technical College, and it is wonderful to partner with each other to focus on student / employee training.

This comes at a most fortuitous timing with the announcement following the 2021 Legislative Session for funding of the Bridgerland Technical College Health Sciences building. With the already existing shortage of nurses and healthcare professionals, this gift from Intermountain Healthcare for student scholarships will continue to enhance outreach efforts and bridge the gap for healthcare professionals needed.