Ken Gilson – Platinum Performer for Automotive Services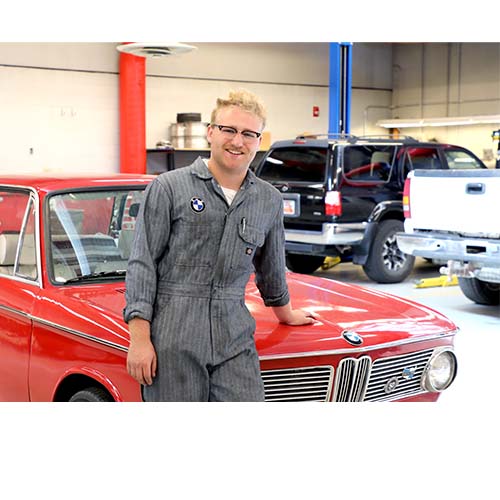 Ken Gilson, a student in the Automotive Service II program at Bridgerland Technical College, shares his journey and passion for cars. Originally from Boise, Idaho, Gilson's love for automobiles began at a young age when he purchased his first car, a 1948 Plymouth, at just 13 years old. This experience sparked his deep interest in the automotive industry and motivated him to pursue it professionally. To achieve his goals, Gilson relocated to Utah and enrolled at Bridgerland Technical College.
Gilson's entry into the automotive field started with his approach to a local Toyota dealership for a job. His boss, Russ Oley, who had also taken courses at Bridgerland Technical College, recommended the institution as a stepping stone toward a successful career. Intrigued by the opportunity, Gilson eagerly enrolled in the Automotive Service program. He began his journey as a technician, performing oil changes and enthusiastically embracing the experience. Encouraged by Oley, Gilson decided to apply for the Automotive Service program at Bridgerland Technical College, where he gained a head start by completing the ASCG one certification.
Currently enrolled in the Automotive Service II program, Gilson's passion for cars continues to grow. The program has provided him with invaluable experience and extensive knowledge in the field. One of his notable achievements during this time has been the restoration of his own project car, a 1968 BMW 1600. Over the past three years, Gilson has dedicated countless hours to rebuilding the engine, enhancing performance, and even tackling bodywork and electrical systems. His project car has become a source of pride and joy, fueling his ambition to work with BMWs and eventually join their race team.
What sets Gilson apart is his affinity for European cars, particularly vintage models. He thoroughly enjoys working with his hands, making the Automotive Service II program a perfect fit for his interests. Gilson praises the experienced instructors at Bridgerland Technical College for their deep industry knowledge and acknowledges that learning from them has been an enriching experience. Beyond the practical skills required for working in dealerships or personal shops, the program has provided insights into automotive history and various features. Gilson appreciates the wisdom of his instructors and plans to apply it both professionally and personally.
Gilson's passion for automobiles stems from his childhood, greatly influenced by his father. From a young age, he actively participated in the restoration of his father's 1968 Datsun SPL 311 Roadster. This early exposure instilled in him a desire to own and work on unique and impressive vehicles. Gilson's father has been a constant supporter, encouraging and assisting him throughout his automotive journey. He expresses immense gratitude for his father's presence in his life.
Reflecting on his educational path, Gilson regrets not realizing the opportunities available at Bridgerland Technical College sooner. Immediately entering the workforce after high school, he soon realized that he wasn't pursuing his true passion. Fortunately, the technical college provided him with a chance to pursue his love for cars and make a seamless transition into the automotive field. Gilson advises incoming students to seize the opportunity without delay, emphasizing the exceptional knowledge and readiness to assist exhibited by the instructors at Bridgerland Technical College.
Gilson finds the learning environment in the Automotive Service II program at Bridgerland Technical College particularly enjoyable. Surrounded by like-minded individuals and supported by dedicated instructors, he experiences a unique and enriching atmosphere for learning. This refreshing change from his previous educational experiences has been a positive aspect of his time at the college, and he appreciates their commitment to fostering growth and learning.