WELCOME
LEGISLATIVE AFFAIRS COMMITTEE
Subcommittees
1.  1A - Business, Economic Development & Labor, & Tourism
1B - Executive Offices & Criminal Justice
     1C - Revenue & Taxation
2.  Public, Higher, and Technical Education
3.  Infrastructure & General Govt. Operations, Transportation, Natural Resources, Ag, & Environmental Quality
4.  Retirement and Independent Entities, Health, Military, UETN, Social Services, Medicaid, DWS
5.  All Other Topics, Federal Priorities
2021 Meeting Schedule
January 26, 2021
Time: 7:30 a.m.
Location: Virtual/Zoom - Click to Join
Topic: (#2) Public Ed, Higher Ed, Tech Ed
Presenter: Frank Schofield (and/or designee)
February 2, 2021
Time: 7:30 a.m.
Location: Virtual/Zoom - Click to Join
Topic: (#1A) Tourism, Gov. Open Space & Recreation
Presenter: Paul Davis (and/or designee)
February 9, 2021
Time: 7:30 a.m.
Location: Virtual/Zoom - Click to Join
Topic: (#1A) Economic Development & Government Housing
Presenter: Paul Davis (and/or designee)
February 16, 2021
Time: 7:30 a.m.
Location: Virtual/Zoom - Click to Join
Topic: (#3) Transportation, Hill Air Force Base, Capital Facilities, Infrastructure, Debt Management
Presenter: Jeff Gilbert (and/or designee)
February 23, 2021
Time: 7:30 a.m.
Location: Virtual/Zoom - Click to Join
Topic: (#1C) Revenue & Taxation
Presenter: David Packer (and/or designee)
March 2, 2021
Time: 7:30 a.m.
Location: Virtual/Zoom - Click to Join
Topics: (#5) National Level Items
Presenter: Grace McGuire
March 9, 2021 - Legislative Report Breakfast 
Time: 7:30 a.m.
Location: In person, to be announced
Jamie Andrus, President
Karina Brown, Committee Chair
Emily Hobbs, Coordinator
Links & Documents of Interest
Northern Utah Chamber Coalition (NUCC)
NUCC Wrap-Up Meeting - March 26, 8 a.m. Click for agenda and link to join meeting here.
NUCC Priorities Document (Updated 1/29/21)
CV Chamber Legislative Affairs Bill Tracking
Click to view the committee's Bill Tracker
Utah State Legislature
Bills
Committees
Legislators
Legislative Town Hall Meetings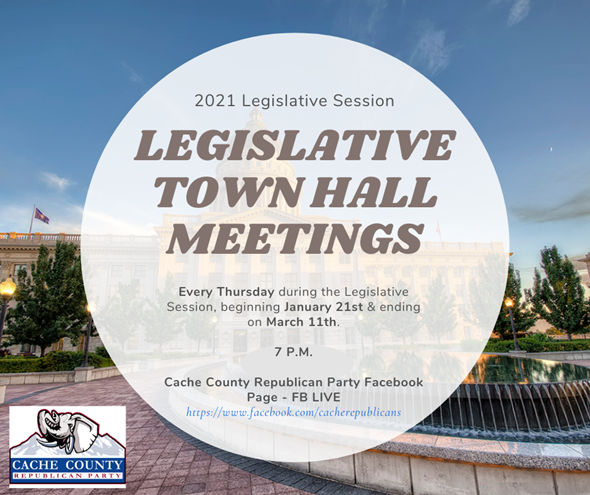 Every Thursday starting January 21 and ending on March 11 at 7 p.m.
Below is also a link where the general public can submit questions. The weekly town halls will be streamed live on the Cache GOP's Facebook page (https://www.facebook.com/cacherepublicans) which is public so anyone can view it there or share it from there.
Legislator Question Submission Form