Lillie Morrison – Platinum Performer for Pharmacy Technician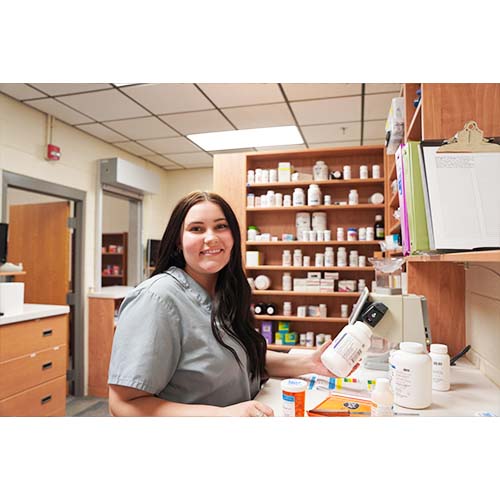 Introducing Lillie Morrison, a dedicated student enrolled in the Pharmacy Technician program at Bridgerland Technical College. When asked about her choice to attend Bridgerland Technical College, Lillie highlights the college's welcoming and personalized environment. She appreciates the close-knit relationships between students and instructors, as well as the genuine kindness exhibited by the staff towards every individual. Lillie thoroughly enjoyed her time at Bridgerland Technical College.
In her leisure time, Lillie finds solace in the comfort of her home, indulging in one of her greatest passions: watching movies. Whether it's a thrilling horror flick or simply unwinding with friends and family, movies hold a special place in her heart. Revealing a unique aspect of her journey, Lillie shares that she explored various programs at Bridgerland Technical College before discovering her true calling as a Pharmacy Technician. She ventured into the realms of CNA and Phlebotomy, but it was in the Pharmacy Technician program where she found true fulfillment.
Lillie's dream job lies within the healthcare field, and her role as a pharmacy technician has captivated her interest. She envisions herself working as a pharmacy technician for an extended period, with the possibility of pursuing further education to deepen her knowledge in a specialized area. After graduation, she plans to diligently accumulate experience in her field, while also considering additional academic endeavors. Lillie's advice to future students echoes the importance of working hard academically, but also embracing the enjoyment and camaraderie that comes with the program. The instructors and staff have left an indelible impression on her, and she treasures the friendships she has cultivated with individuals like Patricia, Miranda, Dart, Kim, and Courtney. Their guidance and expertise have greatly enriched her experience as a pharmacy technician.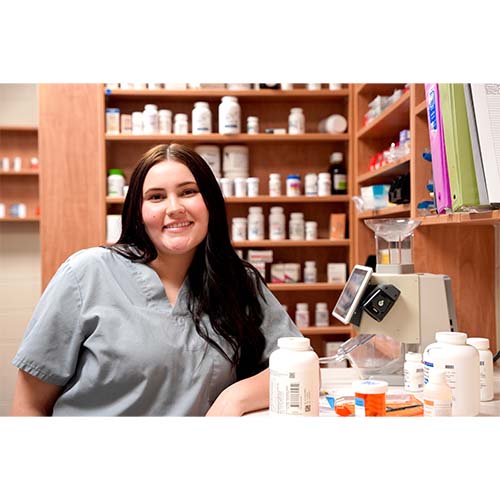 For prospective students contemplating the Pharmacy Technician program, Lillie encourages seeking insights from individuals who have previously embarked on this educational journey. Their perspectives can provide valuable insights into the program's dynamics and rewards. Moreover, she emphasizes the necessity of preparedness and hard work. Reflecting on her positive experiences in the program, Lillie cherishes the camaraderie among her classmates and the collective sense of accomplishment they have shared. Although they won't be spending four hours together every day after graduation, the bonds they have forged will endure.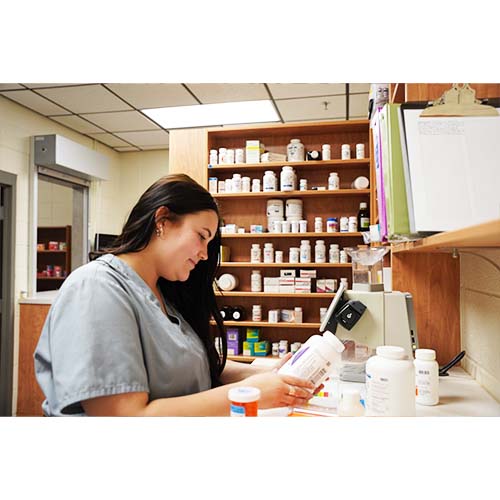 When asked about her inspiration for joining the program, Lillie attributes her mother and sister, both pharmacy technicians who graduated from Bridgerland Technical College. Witnessing their extensive experience and passion for the field ignited her own love for pharmacy. Lillie's admiration for Bridgerland Technical College stems from the supportive environment it fosters, where instructors and staff go above and beyond to nurture each student's potential and success.
Lillie Morrison's journey as a Pharmacy Technician student exemplifies the rewarding experiences one can encounter at Bridgerland Technical College. Her dedication, combined with the invaluable guidance from instructors and staff, has prepared her for a fulfilling career in the healthcare industry. As she moves forward, Lillie remains grateful for the enriching environment and unwavering support she has received throughout her time at Bridgerland Technical College.