PROTECTING THE FRONT-LINES
What do you do when an unforeseen pandemic hits your beloved homeland and threatens the health of thousands of Americans? You take action, of course! At least, that's what Talisha McGovern, instructor in our Media Design and our Drafting program, did when she was undeniably inspired to do something to help family, friends, medical workers, and fellow Americans.
During the last 10 weeks of the shutdown of our country, Talisha has been overseeing a non-profit service project…with tremendous support from hundreds of women, youth, (and even some men), sewing medical masks. Her project was called, "Protecting the Front-lines."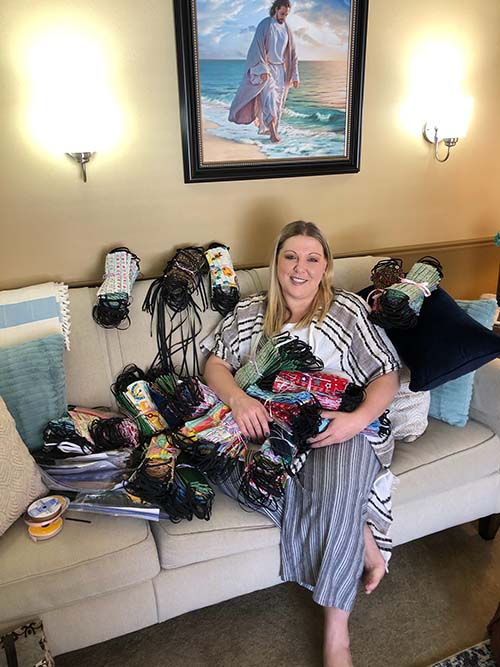 As an employee at Bridgerland Technical College, Talisha was getting ready for a possible full shutdown of the college in March. On March 21st, she was listening to the COVID-19 updates from President Trump. As the president was talking about the shortage of medical supplies, she felt strongly that she should start making medical masks for the medical workers on the front-lines. She decided she couldn't just sit back and watch all this happening in our country and our world! In her mind, she knew there was something she could do to help.
Talisha didn't quite know where to start, or how she was going to go about acting upon these feelings, until the very next day when she received a random text from a good friend, Jennifer Oyewole, who is a nurse in Denver, Colorado. The text simply said, "It's crazy here, we have no masks!" That was all Talisha needed to jump into action!
Talisha contacted three friends in her neighborhood, Jan Wigingtion, Karen Jessop, and Paula Anderson. She knew they had skills and talents to help her get the project off the ground. With her friends' amazing talents, organizational skills, sewing skills, and resources, they sprung into action immediately.
Talisha also contacted a friend's husband, who is a doctor in the valley to get an expert's opinion and some direction. He suggested she contact the CDC, and the health department to get specifics on mask requirements.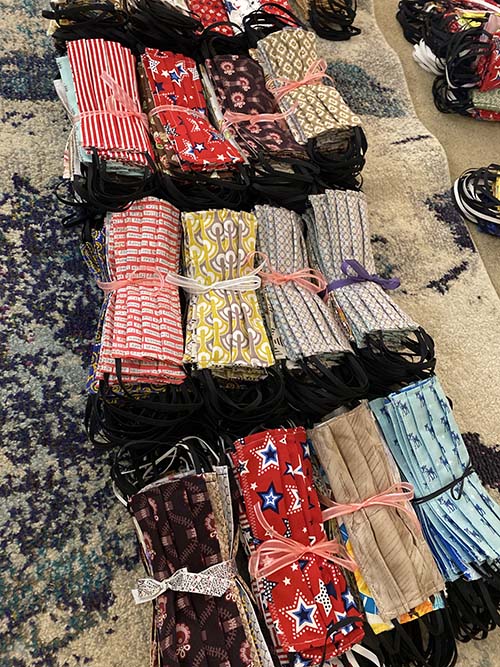 The newly formed, "Protecting the Front-lines" Team began looking at the numerous mask patterns online. After researching thoroughly, they narrowed it down. At the advice of the health department and CDC, they decided the most effective face masks needed to be made from 100% cotton, with a pocket for some type of filter. A visit to Hobby Lobby was made to purchase material, and possibly find some type of filter material to go into the pocket of the masks. Talisha states, "I'm no seamstress, so I really had no idea what I was looking for at this point, except to get 100% cotton material."
Wandering to the back of the store, she came across some interesting looking material. Feeling prompted to get this unusual material, she bought it and took it home, along with the cotton material.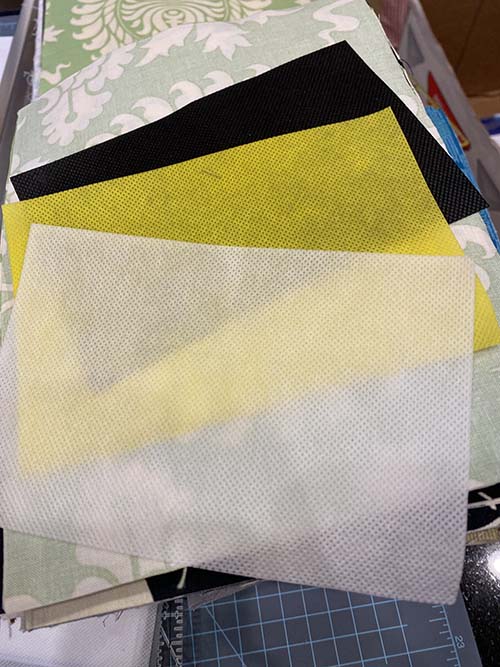 Upon returning home, she cut a small piece of this unusual material, put it under the water faucet, and realized that the water would not go through it. At that point, she knew she had stumbled onto something that just might be an effective filter to put into the masks. She knew it would be more effective than coffee filters or Kleenex. Since then, she found out that many of the medical masks used in hospitals are made out of this very material, polypropylene! She feels she was guided in making the correct choices to make the masks.
Talisha is so amazed by the sequence of events that have happened all through the process of making the masks. People and resources just seemed to be there when she needed them. One of her neighbors formerly worked at Utah State. Her neighbor had access to one of the labs, and was able to send a mask through an enclave machine to make sure that the filter material wouldn't melt in the sanitation cycle. The masks passed the test! Time was of the essence, and masks were needed in so many places, as quickly as possible. The team couldn't believe how quickly things were coming together.
The first recipient of 58 completed masks made by Karen, Paula, Talisha, Jan, and a friend in Salt Lake City, Danni Johnsen, were overnighted to Talisha's nurse friend, Jennifer, at Craig Hospital in Colorado. By Friday, March 27th, just six days after the conception of the project, Talisha received word back from Jennifer, that the hospital had sent them through their sanitation process, and that they were "so" thankful for the masks, and could they send more masks.
Over that weekend, Karen and her husband made instructions, along with videos, on how to make the masks. The team began cutting elastic, material, and putting packets together, which were to be distributed to sewers, all over Cache Valley, starting Monday March 30th.
"The willingness of women, youth, and men, to sew the masks, overwhelmed me with emotion. The help we received just poured out from all over the valley. We had over 300 people sewing, cutting material, donating their time, funds for materials and shipping costs to send to various facilities throughout the United States. The owners of Bernina's in downtown Logan, were so generous, making a huge donation of 54 bolts of material to help with the cause." Talisha said.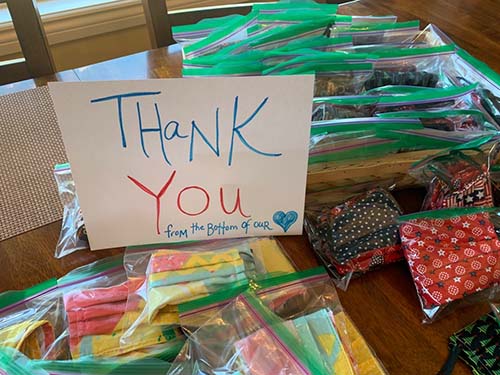 "Special thanks need to be given to the people of these communities for all their dedication to this cause. Newton, Smithfield, Hyde Park, Cliffside in Logan, River Heights, Providence, Milleville, Wellsville, Hyrum, Paradise, Nibley, and in Salt Lake City areas. As the "word" spread about what we were doing, sewers and donations seemed to "come out of the woodwork" at the very times they were needed." Talisha stated.
"This is one of the most amazing things I've ever been apart of….to see our community come together so unselfishly to help people around our state and nation. It has been a blessing during such a troubled time in the world. Some of the women who were making the masks said to me, 'This is saving not only the people wearing the masks, but giving me a purpose.' I'm so grateful to live in such a loving community," Talisha commented.
"Our team would like to publicly thank everyone who helped make this a wonderful success. Our initial goal was 1,000 masks. Then, we reset our goal to 5,000 masks. To date, "Protecting the Front-lines" has made and distributed over 10,000 masks in our own community, as well as 22 other states in our great nation."
Specifically, the masks have gone to: Medical clinics, hospitals, nursing homes, assisted-living homes, daycare facilities, missionaries, truck drivers, local businesses, high-risk individuals, Native American reservations, and employees at the Cache County School District.
Masks have gone to the following states:
Utah, Oregon, Idaho, Nevada, Montana, Washington State, Virginia, Texas, Kansas, Arizona, Oklahoma, Iowa, Illinois, Indiana, California, Missouri, Wisconsin, Colorado, Pennsylvania, Florida, Wyoming, New Mexico
"Our hope is that if our project has saved just one life from this invisible enemy, it will have been well-worth our efforts!"