Stephen Porter – Electronic Engineering Technology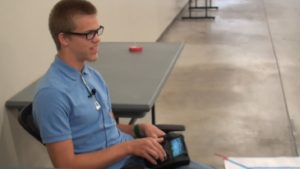 Stephen Porter is a student in Electronic Engineering Technology and we couldn't be more thrilled to have him at Bridgerland Technical College. Stephen originates from Los Angeles, California but is currently a student at the Logan River Academy. While Utah is a far cry from his home in California, where he lived five minutes from the ocean, he insists that he absolutely loves Utah! He is an avid outdoors-man and you can usually find him actively engaged in some type of physical activity.
When asking Stephen what he enjoys the most about the Logan River Academy, he says "I was kind of not really trying to work hard on school (in California). I was falling behind. But when I came here, they just kind of pushed me to be more productive and now I have a purpose to be at school. I just finished up some Algebra 2. Algebra is pretty easy, it's one of my favorite classes. They have a lot of online classes over there, so I finished my Physics course already. I like the applicability of it to my interests. I love making stuff and knowing physics helps."
If you were to ask Stephen about some of the projects he has worked on in his spare time, he is more than happy to discuss the many  inventions he has created.
"Right now I'm making a rover that is going to follow a beacon I'm going to wear, so it follows me around and carries stuff for me. It has a seven pound arm and will carry a book for me. I've made an exoskeleton for my arm. I have cerebral palsy, so it's kind of tough for me to move my arm sometimes. To build the exoskeleton I used high torque pistons for the motors and that's how I can move my elbow. If the motors feel pressure when I was moving it would assist my arm. I've made a robot that had treads and could go on grass and has a cannon that shoots balls. It has a color sensor on it so if I put it in the gym it could follow the lines. It had an infrared sensor so it wouldn't hit anything. It was remote control so I could control it."
As you can see, Stephen is not short on new and exciting ideas. When asking him how he ended up at Bridgerland Technical College he said "Logan River set up BTECH for me. I was so excited. This is my dream. I love it here. It seemed like the best choice for me. It aided me in places where I was kind of falling. I had an Arduino, but didn't really use it that much. I only did simple stuff with it. Here it has taught me to be more well-rounded with what I'm working with."
"The hardest part was they make you learn stuff, they don't just give you the information. The latest robot arm I made, I've really had to come up with my own ideas. They basically just give you the instructions that you have to pick something up, and place it and you have to use a sensor and a light. I had to build the arm and code it. I basically came up with something that uses an infrared sensor to sense a ball. The robot arm moves it over, picks it up and places it on the surface. I'm really proud of it. I came up with everything by myself and it's so precise."
Bridgerland Technical College is very proud to have Stephen Porter as a student here. He is energetic and inventive and excited to learn new things every day. He has many interests and hobbies and we expect to see great things from him. While he is loving life out here in Utah, he always takes the time to recognize those who helped him along the way.
"I'm grateful to my family. They are supportive of everything I do. I really appreciate it. My parents will do anything for me and my brother is a huge inspiration. My brother is an Engineer. He is my role model. He made some crazy stuff with Legos. He made a design and patented it for a magnetic generator and made it out of Legos."
Stephen also hopes to inspire others who have Cerebral Palsy like him. It is a disorder that affects the nerves on the left side of his body. He wants others to see that they are capable of living life to the fullest. He loves sports and being athletic. He says, "I need to adapt well for every situation. The left side of my body just doesn't move when I tell it to move. It's a daily hassle. I have no problem discussing it. I think more people need to embrace it. A lot of people get down. I like a bunch of different sports, football, basketball, baseball. I do a lot of skateboarding and running and swimming. It's not a disability. It's an extra obstacle. Mind over matter."
One thing Stephen is certain of in this life is that there is no other car better than the Bugatti Chiron. He is adamant about that. "Each part in the motor is hand crafted by a machinist and carried by the engineer in briefcases to be assembled. It's real high quality." His dream would be to get a degree in Automotive Engineering. I hope to make the Bugatti Team."
We wish you the best of luck for the future Stephen…although we are pretty sure you won't need it!