Student Success: Bret Cummings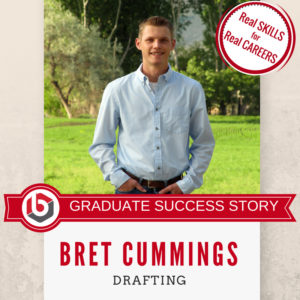 Bret chose to pursue an education at Bridgerland Technical College because it will serve as a stepping stone toward a degree in engineering. His certificate of completion from Drafting will earn him 30 credit hours at USU, and the skills he polished in the program will help him find a better job while continuing his education.
Before starting the program, Bret had taken basic drafting courses and was familiar with AutoCAD, Inventor, and Solidworks.
Through the program, he learned the great importance of focusing on details. "Anybody can draw something, the trick is drawing it so that other people can create it and have it work," he said. Bret's favorite part of the program was learning new skills and advancing his knowledge of various drafting software.
Bret plans to serve a mission for his church, then enroll at Utah State University to pursue a master's degree in mechanical or civil engineering. While attending school, he plans to put the knowledge and skills he learned to good use by working as a draftsman or engineer.
Good luck with all of your pursuits, Bret!
Ready to begin your career? Our Student Success Advisors are standing by to help you get started!