Sydney Haynie Platinum Performer for Cosmetology/Barbering
We are pleased to announce this year's Platinum Performer for Cosmetology/Barbering, Sydney Haynie!
Sydney decided to do the Cosmetology/Barbering program because she loves doing hair and has dreamed of becoming a hairstylist since she was little. She began in high school and easily transitioned to an adult student after graduation. Despite being in high school, Sydney commented that the adult students welcomed her with open arms.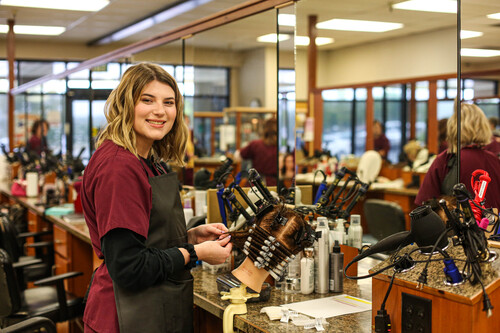 After graduation, Sydney would like to get a job in a salon before opening up her own business. When asked how other students may find success and confidence in their program, she said students need to have a continued motivation and drive to learn. They can't go into the program expecting to only put in minimal effort. Successful students are committed.
Sydney's instructors greatly impacted her experience in the program. Sydney explained that she has always been a shy person, but her instructors helped her open up and express herself. Sydney said they accepted her for who she is.
We were so happy to meet Sydney, and we look forward to seeing where she goes in the future!