Can You Believe What This High School Senior Did?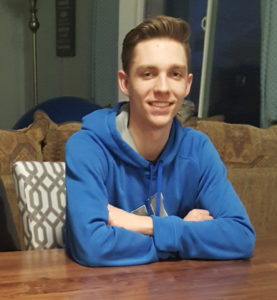 Caden Finley, a 17-year-old Building Technology student at Bridgerland Technical College, knew that his mother wanted a new kitchen table, so he took matters into his own hands and designed and built one for her. We think he should be nominated for a "Son of the Year" award! Caden is a senior at Ridgeline High School and when he heard about the classes BTECH offers to high school students, decided to give cabinetmaking a try.
Caden loved how easy it was to learn the basics of cabinetmaking. "My instructor, Eric Bowen, made the class fun, educational, and entertaining. Even though it was a cabinetmaking class, he let my imagination think of anything I wanted to build. My family needed a new dining room table, so I asked if I could build one. Without hesitation, Eric said yes, and I was thrilled! I was very motivated and worked hard to finish my project on time."
Caden's mother, Wendy, admitted to being a little bit nervous about the magnitude of the project. "When I heard he wanted to build a kitchen table, I thought he might be biting off more than he could chew and was a little skeptical of how it would turn out."
Her mind was quickly put at ease as she watched the table come together and was impressed that the instructors provided suggestions for types of wood, colors, and styles, but let Caden make a lot of the decisions regarding the table. "Caden has never built something of this magnitude, but he has always enjoyed working with his hands and drawing. He had a great experience in the class, and it was fun to see him utilize his talents to build something that our family will cherish for years to come."
Eric Bowen is passionate about fostering his students' creativity and helping them hone their skills. "This is an example of what happens when a student is motivated to learn, shows creativity, and takes the initiative to follow through. It's satisfying as an instructor to see students who take pride in their craftsmanship from the design process to the construction of a project."
Caden enjoyed his experience, and his family loves their new kitchen table. "I highly recommend BTECH classes for high school and adult students!"
Well done, Caden!
With stackable credentials and an exciting new partnership with Utah State University, BTECH graduates can go directly into the workforce, transfer their certificate of completion to USU for 30 credit hours towards their A.A.S. or bachelor's degree, or both.
Ready to Get YOUR Tech On? Visit btech.edu or contact a Student Success Advisor to learn more about the classes and programs BTECH has to offer!