Bridgerland Technical College
Grades/Ratings
and Courses
Training at the college is learner-centered or in other words, competency based. This allows students to progress in their program as skills are mastered. Competency is determined using work completed by the student throughout the entire course. At the completion of each course, students receive a grade or rating to communicate their accomplishments that is in accordance with industry, employer, and certification standards.
Competency based programs will assign completed courses either a grade or a rating.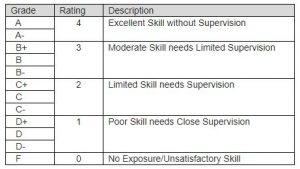 For more information about course grades/ratings visit with a program instructor or department head, or see the colleges Grades/Ratings and Courses policy 600.615. See also the Academic Rights and Responsibilities policy 600.616 used to measure student academic progress.
Logan Campus - Main
Telephone: 435-753-6780
Student Services
Monday: 8 am - 4:30 pm
Tuesday: 8 am - 6 pm
Wednesday: 8 am - 6 pm
Thursday: 8 am - 4:30 pm
Friday: 8 am - 4 pm
Sat/Sun: Closed
Brigham City Campus
Telephone: 435-734-0614
Student Services
Monday: 7:30 am - 4 pm
Tuesday: 7:30 am - 4 pm
Wednesday: 7:30 am - 4 pm
Thursday: 7:30 am - 4 pm
Friday: 7:30 am - 3 pm
Sat/Sun: Closed
Logan Campus - Main . 435-753-6780
1301 North 600 West, Logan, UT 84321
Brigham City Campus . 435-734-0614
325 West 1100 South Brigham City, UT 84302