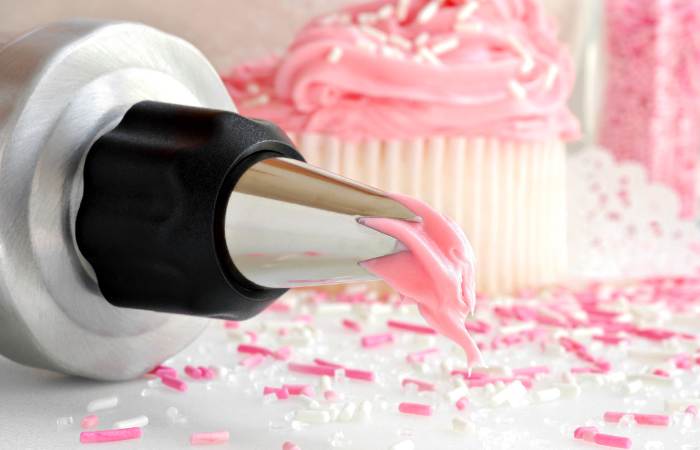 Join us for an introductory, casual, and fun cake-decorating class! Create an eye-popping cake while learning basic techniques such as stacking, applying the buttercream crumb coat, and getting smooth sides on the final buttercream layer. You'll also learn different types of borders and flowers to try on your cake. You will learn alongside like-minded friends, decorating already-baked cakes with live instruction to help along the way. 
Instructor: Camie Holden owns and manages Shaffer House Bakery. She has over 30 years of experience decorating all occasion cakes, anniversary cakes, tiered wedding cakes, and cupcakes.   
Individuals are responsible for canceling their registration should they not be able to attend. Refunds will not be issued for non-attendance. Cancellations received before the first day of class will receive a 100% refund. No refunds, in whole or in part, will be given on or after the first day of class.
Click here to learn more about our Refund Policy.
Registration Code
| Class Dates | Day | Time | Code | Cost |
| --- | --- | --- | --- | --- |
| Oct 4 | Wed | 6 - 8:30 pm | CE41 0050 01 LC | $55 |
**Cost includes basic decorating kit (turntable, cake leveler, 24 numbered tips, etc) which students keep after the class.

The mission of the Bridgerland Technical College is to deliver competency-based, employer-guided career and technical education to both secondary and post-secondary students through traditional and technology-enhanced

methodologies. This hands-on technical education provides occupational education, skills training, and workforce development to support the educational and economic development of the Bear River Region. 

Logan Campus - Main
Telephone: 435-753-6780
Student Services
Monday: 8 am - 4:30 pm
Tuesday: 8 am - 6 pm
Wednesday: 8 am - 6 pm
Thursday: 8 am - 4:30 pm
Friday: 8 am - 4 pm
Sat/Sun: Closed
Brigham City Campus
Telephone: 435-734-0614
Student Services
Monday: 7:30 am - 4 pm
Tuesday: 7:30 am - 4 pm
Wednesday: 7:30 am - 4 pm
Thursday: 7:30 am - 4 pm
Friday: 7:30 am - 3 pm
Sat/Sun: Closed
Logan Campus - Main . 435-753-6780
1301 North 600 West, Logan, UT 84321
Brigham City Campus . 435-734-0614
325 West 1100 South Brigham City, UT 84302