Bridgerland Technical College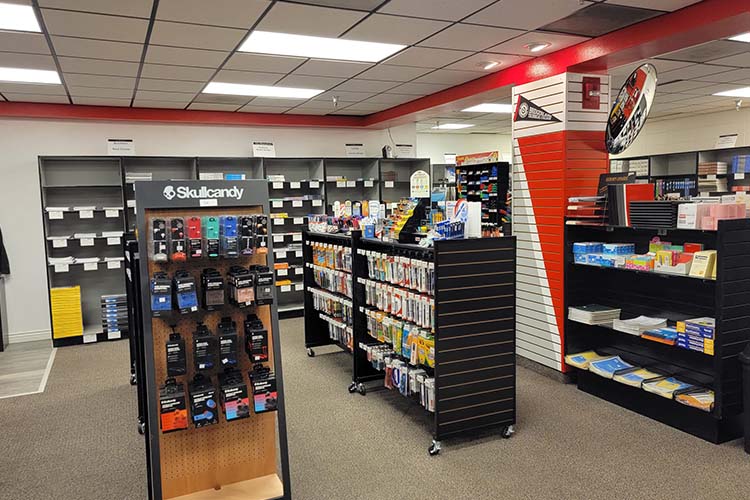 Bridgerland Technical College has a full-service campus bookstore for both the Logan Campus and Brigham City Campus.
The Logan Campus bookstore is located at 1301 N 600 W, Logan, UT 84321, at the north end of the building in the main hallway. Textbooks, school and office supplies, class materials, candy and snacks, greeting cards, gift selections, backpacks, clothing, and more are all available at the bookstore.
Used textbooks can be sold back to the bookstore at the discretion of the bookstore manager. The value is determined by the demand for that specific book.
The Brigham City Campus bookstore carries textbooks, school/office supplies, and class materials. It is located near the main entrance to the building.
Logan Campus - Main building Bookstore Hours:
7:45 a.m. to 6:30 p.m. Monday - Thursday
7:45 a.m. to 3:30 p.m. Friday
Logan Campus - West building Bookstore Hours:
8 a.m. to 11:30 a.m. Monday - Friday
12:30 p.m. to 4 p.m. Monday - Friday
Brigham City Campus Bookstore Hours:
7:30 a.m. to 3:30 p.m. Monday - Friday
7:30 a.m. to 7 p.m. First week of evening classes
Logan Campus - Main
Telephone: 435-753-6780
Student Services
Monday: 8 am - 4:30 pm
Tuesday: 8 am - 6 pm
Wednesday: 8 am - 6 pm
Thursday: 8 am - 4:30 pm
Friday: 8 am - 4 pm
Sat/Sun: Closed
Brigham City Campus
Telephone: 435-734-0614
Student Services
Monday: 7:30 am - 4 pm
Tuesday: 7:30 am - 4 pm
Wednesday: 7:30 am - 4 pm
Thursday: 7:30 am - 4 pm
Friday: 7:30 am - 3 pm
Sat/Sun: Closed
Logan Campus - Main . 435-753-6780
1301 North 600 West, Logan, UT 84321
Brigham City Campus . 435-734-0614
325 West 1100 South Brigham City, UT 84302