This course will provide an extension of sewing skills gained in Beginning Sewing, by focusing on clothing construction, fit, and design consideration.  The focus will be aimed toward but not limited to outdoor gear style. This course fulfills credits toward the Outdoor Product Design and Development degree.
Objectives:
Distinguish different types of fabric and fiber characteristics used in the sports and outdoor apparel industry.
Complete a sewing glossary using sewing machines, serger, and iron.
Demonstrate knowledge and ability to produce basic pattern alterations for an accurate fit.
Apply correct sewing construction techniques at the intermediate level to complete four functional garments.
Minimum of 5 students must register to run the class.
Registration Code
Logan (LC)
| Class Date | Day | Time | Code | Cost |
| --- | --- | --- | --- | --- |
| Jan 8 - March 19 | Tu Th | 6-9 pm | FASH 1730 01 LC | $150 |
A Little About Bridgerland Technical College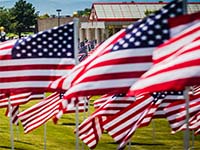 The mission of the Bridgerland Technical College is to deliver competency-based, employer-guided career and technical education to both secondary and post-secondary students through traditional and technology-enhanced methodologies.
Logan Campus - Main
Student Services
Monday: 8 am - 4:30 pm (We will be open at 7:30 am on the first day of registration)
Tuesday: 8 am - 6 pm
Wednesday: 8 am - 6 pm
Thursday: 8 am - 4:30 pm
Friday: 8 am - 4 pm
Sat/Sun: Closed
Brigham City Branch Campus 
Telephone: 435-734-0614
In-Person Hours Brigham City Branch Campus
Monday: 7:30 am - 4 pm
Tuesday: 7:30 am - 4 pm
Wednesday: 7:30 am - 4 pm
Thursday: 7:30 am - 4 pm
Friday: 7:30 am - 3 pm
Sat/Sun: Closed
Logan Campus - Main (Office)
1301 North 600 West
Logan, UT 84321
Toll Free: 866-701-1100
Local: 435-753-6780
TDD: 800-346-4128
Fax: 435-752-2016