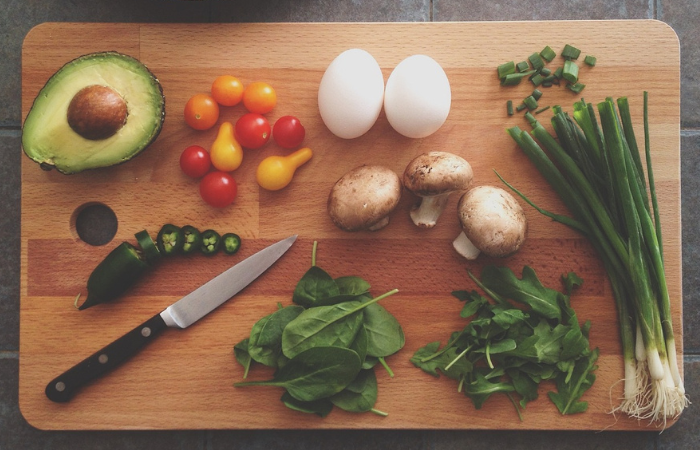 Join Chef Karen for fun, healthy cooking with demonstrations and hands-on cooking classes learning to prepare nourishing and delicious foods. These classes are fun and simple, packed with information to help motivate one to cook healthy. Included will be recipes, nutrition education, and having a fun time socially with others that are mind-alike in healthy eating. 
October 18
Creative Soups
In this class, Karen will demonstrate simple steps to creating a no-fail soup. Two soups will be demonstrated, including her famous creamy non-dairy Broccoli Cheeze soup. You will receive a guide with the basic steps to create any soup. Karen's favorite soup recipes will be given out to try at home. Everyone will enjoy a bowl of soup and take turns helping with the demonstration.
November 4
Grain Free Muffins and Pancakes
In this workshop, Karen will demonstrate and let everyone assist in making muffins and pancakes. Each group will get to make different muffins and pancakes to share for everyone to take home. Learn how to bake with options other than white flour and sugar. Recipes will be included, along with a whole lot of fun baking and making.
November 18
Let's Saute! Stir Fry and Sides
In this hands-on workshop Karen will demonstrate and have everyone participate in making a fabulous stir fry and preparing side dishes that go well with stir fry's. Learn about the importance of prep work and creating "make it easy" meals ahead of time for busy days. Take home what you make and receive some recipes to try at home.
December 6
Healthy Snacks and Treats
In this class, you will get to experience how to create some fun treats that are healthy and delicious. Karen will demonstrate a few and have some pre-made for sampling and recipes to take home. For example, energy bites, pudding, raw cookies, and granola. Everyone will get an opportunity to help out with the demonstration as well.
Instructor: Chef Karen is passionate about creating whole foods and educating about holistic nutrition and lifestyle. She is passionate about sharing, educating, and providing ideas to help others learn how to eat healthily for a better lifestyle.   
Individuals are responsible for canceling their registration should they not be able to attend. Refunds will not be issued for non-attendance. Cancellations received before the first day of class will receive a 100% refund. No refunds, in whole or in part, will be given on or after the first day of class.
Click here to learn more about our Refund Policy.
Registration Code
| Class Dates | Day | Time | Code | Cost |
| --- | --- | --- | --- | --- |
| Oct 18 | Wed | 6 - 7:30 pm | CE41 0040 02 LC | $25 |
| Nov 4 | Sat | 10 - 12 noon | CE41 0040 03 LC | $40 |
| Nov 18 | Sat | 10 - 12 noon | CE41 0040 04 LC | $40 |
| Dec 6 | Wed | 6 - 7:30 pm | CE41 0040 05 LC | $25 |

The mission of the Bridgerland Technical College is to deliver competency-based, employer-guided career and technical education to both secondary and post-secondary students through traditional and technology-enhanced

methodologies. This hands-on technical education provides occupational education, skills training, and workforce development to support the educational and economic development of the Bear River Region. 

Logan Campus - Main
Telephone: 435-753-6780
Student Services
Monday: 8 am - 4:30 pm
Tuesday: 8 am - 6 pm
Wednesday: 8 am - 6 pm
Thursday: 8 am - 4:30 pm
Friday: 8 am - 4 pm
Sat/Sun: Closed
Brigham City Campus
Telephone: 435-734-0614
Student Services
Monday: 7:30 am - 4 pm
Tuesday: 7:30 am - 4 pm
Wednesday: 7:30 am - 4 pm
Thursday: 7:30 am - 4 pm
Friday: 7:30 am - 3 pm
Sat/Sun: Closed
Logan Campus - Main . 435-753-6780
1301 North 600 West, Logan, UT 84321
Brigham City Campus . 435-734-0614
325 West 1100 South Brigham City, UT 84302